Public commission Turebergskyrkan, Sollentuna, Sweden
2017

Aguéli prize winner 2017

Solo exhibition at Aguélimuseet, Sala, Sweden,
www.aguelimuseet.se

Jubilee lecture: Emilia Fogelklou - a Modern Mystic and Pioneer, Sigtunastiftelsen
http://www.sigtunastiftelsen.se/programpunkt/en-modern-mystiker-och-pionjar/

Residency grant Nebbeboda skola (the Municipality of Olofström and Harry Martinson Society)

Artist-in-residence, Kashi Art Gallery, Fort Kochi, Kerala, India
http://www.thehindu.com/todays-paper/tp-features/tp-metroplus/impressions-of-kochi/article22330245.ece

Board member at Konstnärshuset (The Artist's House), Stockholm

Visiting Senior Lecturer at University College of Arts, Crafts and Design, Stockholm


2016

Artist-in-residence, Foundation Obras, Portugal

The Swedish Arts Grants Committee Artist Grant 2015-16

Art consultant at Church of Sweden as a project manager for the national refugee art project: Art, Culture and Integration.
https://www.svenskakyrkan.se/konst-kultur-och-integration

Public commission Turebergskyrkan, Sollentuna


2015
"En särskild sol"/ "A Sun of One's Own" 9/5-30/5. Solo exhibition at Aguélimuseet in Sala, Sweden
30/5 14.00 Artist talk: Erika Dahlén and Simon Sorgenfrei, Södertörn University
www.aguelimuseet.se

Senior lecturer at Perceptionsstudion, University College of Arts, Crafts and Design, Stockholm: http://www.konstfack.se/Om-Konstfack/Institutioner/Institutionen-for-Design-Konsthantverk-och-Konst/Perceptionsstudion/


2014
Solo exhibition: "QUALIA" Palácio de Dom Manuel, Évora, Portugal 23/4-16/5 organized by Obras International Centre on Art and Science in collaboration with Municipality of Évora and the Swedish Embassy in Lissabon. The project was supported by Foundation Helge Ax:son Johnson.

Solo exhibition Hallsbergs Konsthall 13/9-8/10



2013
Release of the catalogue "Erika Dahlén WORKS 2010-2013", (produced with the support of the Längmanska Culture Foundation), ISBN 978-91-637-2918-8

"The matter of silence"/ "Tystnadens materia", solo exhibition at Konstnärshuset, Stockholm, April 6-24

2012
"Transit" Lund Cathedral July 14 - August 29
Initiates a artproject on consumption and sustainable development for 8th graders at a public school in Stockholm. A collaboration with the artists Maria Saveland and Anna Selander.
http://www.bolla.se/projekt/projektarkiv/Sjuornas-konstprojekt-blev-utstallning-pa-Kulturhuset/
2011
Artist in residence, Obras International Centre on Arts and Science, Portugal.
The book "Jorden vi ärvde" is now also an exhibition produced by Sensus, Sweden. For information contact: annika.broman@sensus.se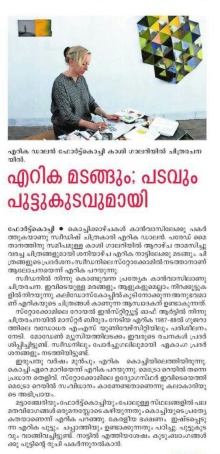 Installation in the crypt of Lund Cathedral 2012
TRANSIT
The title of the installation – Transit – ­can refer to passage, where one emphasizes art as a place for change and going beyond. In it´s composition the exhibition transcended borders in terms of material and technology where oil paintings was integrated with UV-LED lighting technology.
The crypt itself is a place of transition. Throughout history, many people have walked through the crypt. The decorated well gives us reason to believe that christenings were performed here. The grave slabs remind us of death as a boundary and as a gateway to another existence. If the cathedral is the body, then the crypt is its heart, its inner room. It is darker here and it takes a while for ones eyes to adjust, when coming down from the lighter aisles of the church above. We are invited to stop a while and wait for the interplay of eye, light and stone. Wandering between the columns has a rhythm all of its own.
Dahlén experiments with colours as the carrier of light and they seem to hover in the air with lightness meeting the weight of the stone. The artist paints with light just as the architects interplay with light in order to build the room.
Erika Dahlén about her work:
"I probably see myself as a typical painter, even though I use many other materials and techniques, so it is to painting I always return. For some time now, I've been trying to paint with light by experimenting with reflective paint. The actual painting occurs in addition to the painted object and is dependent on light conditions and the observer's movement in the room."
Erika Dahlén is interested in an artwork's origin. She examines how the work emerges and comes into being. The work continues to be created in an interaction with the observer, space and light.
Lena Sjöstrand, Cathedral Chaplain